HOW TO CLEAN CAR BATTERY CORROSION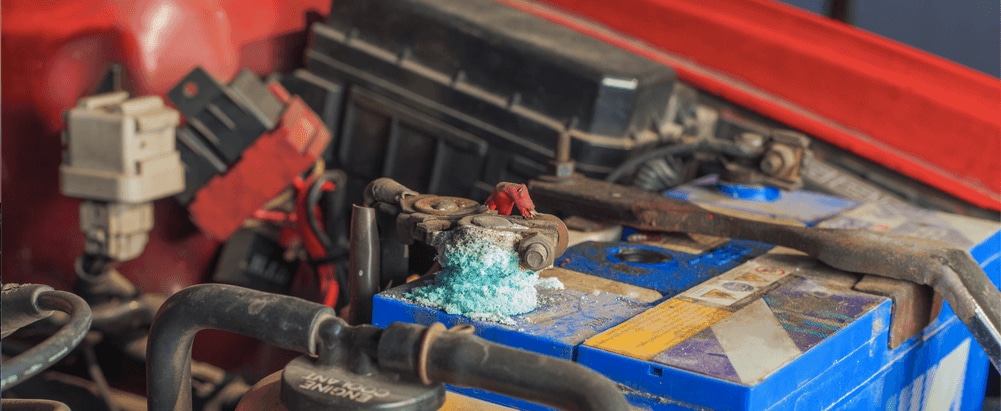 Nobody wants to find corrosion on their car battery, but the service team here at Maserati of Austin can help. We've put together a quick guide to help you understand what causes car battery corrosion and how to remove corrosion from a car battery. Take the right steps now and you could avoid the inconvenience of breakdowns and the cost of a new battery. You'll be safely cruising the Houston streets again in no time! Feel free to schedule service with us if you need further assistance apart from DIY car tips.
WHAT ARE THE SIGNS OF BATTERY CORROSION?
Corrosion is usually clearly visible, but there are some signs you'll get while behind the wheel, including:
Weaker power
Trouble starting
Low voltage codes on the dash display.
If you're experiencing them, wait at least 30 minutes after driving to ensure the engine is cool, then pop the hood and take a look. If the battery terminals are caked in white, green, blue, or teal, that's corrosion.
WHAT CAUSES CAR BATTERY CORROSION?
Your battery does a lot of work, and the gases expelled throughout mix with the surrounding metal to cause corrosion over time. It develops at the terminals because that's where the electric connection is to the battery. Unfortunately, all car batteries will eventually develop corrosion as time passes. If you need assistance when this happens, you can always rely on our Dallas-area service department.
HOW TO REMOVE CORROSION FROM A CAR BATTERY
Now you know what to look for, you need to know how to get rid of it. You can either go with a DIY solution or pick up a professional cleaner from your local service center. Either way, use gloves, goggles, and a respirator to help protect yourself.
How to Clean Car Battery Corrosion with Professional Cleaner: Spray the solution liberally on the affected area, then use a wire brush on it until all the corrosion is gone.
How to Clean Car Battery Corrosion with a DIY Battery Solution: Remove connectors from the terminal, then pour baking soda over the corrosion before adding some water. You can then dry with a paper towel and use a scrub sponge on the affected area.
Once you're done, prevent future corrosion by using a spray battery protector, rust inhibitor spray, or anti-corrosion gel.
RELY ON THE MASERATI OF AUSTIN SERVICE TEAM FOR CAR MAINTENANCE
Whether you want to know how often to change your oil or how to install a car battery, the team here at Maserati of Austin can help you keep moving confidently around San Antonio. For any further advice or assistance on what causes car battery corrosion and how to remove it, feel free to contact us today.
Maserati Austin

12925 Pond Springs Road
Austin, TX 78729