HOW TO GET RID OF SMOKE SMELL IN A CAR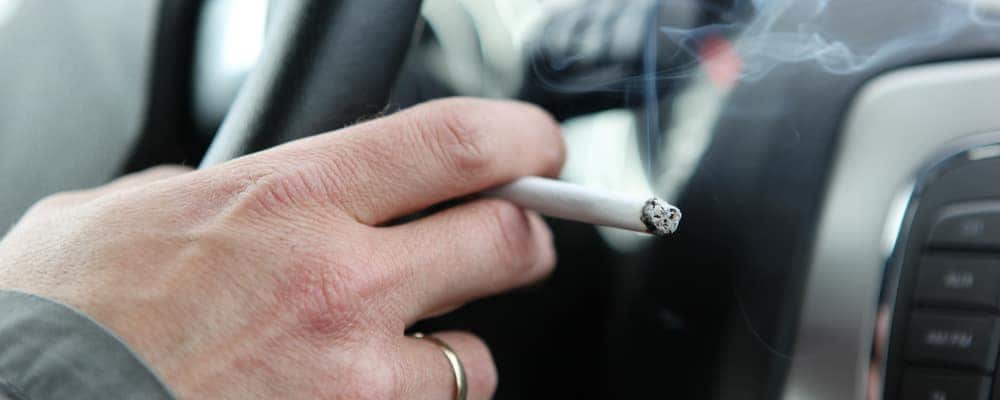 If you've spent much time searching high and low for the perfect used vehicle, you know how frustrating it can be to find a car that has it all-along with a little something extra. Before you give up and move on, you should know that it's far from impossible to get the smoke smell out of a car, for good. In fact, learning how to remove smoke smell from a car really only takes a few minutes, and you might already have what you need at home in San Antonio.
HOW TO REMOVE SMOKE SMELL: CARPET AND UPHOLSTERY
ven if you drive a luxury vehicle with an interior composed of leather, you might have already noticed that carpeting can hold onto cigarette smell just as well as seats can. Whether you're cleaning the seating surfaces or the floor, the smoke smell removal process is quick and easy:
Vacuum up the carpets and the upholstery, and make sure to get all the cracks and crevices. If any ash has been left behind by a previous owner, this will take care of it.
Deposit baking soda over the surface you'll be cleaning, and leave it there for as long as you can afford to. It will neutralize and absorb the scent of smoke.
Vacuum up all the baking soda. You should notice much less of a smoke smell, but if some is still present, there's no harm in repeating the process.
While you're doing research, find out how to wash your car's exterior, too.
HOW TO REMOVE SMOKE SMELL: LEATHER AND TRIM
Do you need to know how to get the smoke smell out of a car with leather seats? If you've ever cleaned leather seats before, then you already know the most important part of the process. Choose a cleaner that has been specifically formulated for your vehicles interior; your owner's manual may even have one listed. Most will be designed to remove unpleasant odors, including smoke smell, automatically. Once you have the product you need, clean your leather seats and hard surfaces multiple times. Once again, do your best to get into cracks and crevices. We don't recommend taking a vacuum to your leather seats, since you may scratch the material. However, you can and should go over the surface with a microfiber cloth, use compressed air to get into cracks, and use a soft tool or soft-bristled brush to work the cleaner into the seats.
WHAT ABOUT OTHER AREAS IN YOUR CAR?
So, you've learned how to get rid of smoke smell in a car, and you've gone over all the seats, carpets, and trimming. There are still a few more areas you'll want to cover:
Yes, even windows can hold onto cigarette smell! You'll want to clean each window inside and out, and go over both windshields too.
When you're trying to get the smoke smell out of a car, you really can't leave any stone unturned. Think about the areas that you may have missed, including air vents, storage spaces, and button controls.
Last but not least, make sure to replace your cabin air filter. If the old one smells like smoke, it will continue to deposit that scent in your cabin!
Are you in need of specialized cleaning products or tools? Ready to pick up a new air filter? You can find everything you need at our Austin parts department, and we're just a short drive from Houston or Dallas.
MASERATI OF AUSTIN IS HERE TO HELP!
If you're taking on more DIY car care tasks, be sure to check out our best service tips and tricks today! We can help you learn how to clean your vehicle, remove car battery corrosion, and much more! Although there's certainly nothing wrong with taking care of your vehicle at home, we understand if there are some tasks you'd prefer to leave to the experts. Schedule service online today.
Maserati Austin

12925 Pond Springs Road
Austin, TX 78729