How to Install a Car Battery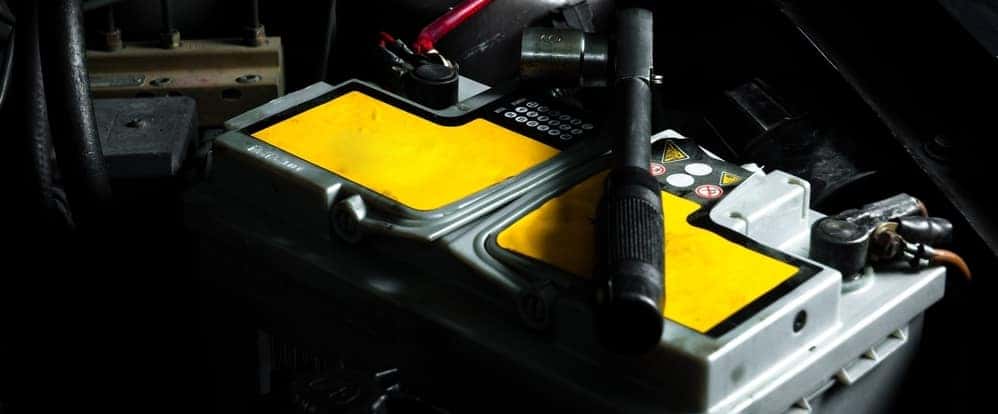 You might think car battery installation is a simple
auto service
— as in you just lift out the old battery and replace it with the new one. And that's it. However, that's not necessarily the case. There are a few steps involved in replacing a battery, and the process itself can be dangerous if you don't have the right gear. You'll need thick rubber gloves to protect your hands, as well as:
Wrenches
Battery cleaning solution
Dry cleaning cloth
New battery
Wire brush
Pliers
Anti-corrosion spray
Once you have the materials you need, follow the steps below to learn how to install a car battery.
Step-By-Step Guide to Installing a Car Battery
First, make sure the engine is turned off and the parking brake has been applied. Then, pop the hood and find the battery (refer to your owner's manual if you're having trouble). Using the wrench, loosen the nut that connects the black cable (negative cable) from the battery. A wrench designed for car batteries or even the pliers can be helpful here.
After the nut has been loosened, twist and pull the cable off. If it won't come right off, do not use a screwdriver to pry it off. You'll damage the battery.
Repeating the same process, remove the red battery cable (positive cable) from the positive terminal.
Loosen and remove the clamps that keep the battery from moving around under the hood.
Use both hands to remove the battery. Bear in mind that car batteries can weigh around 40 pounds.
Remove any corrosion from the battery tray or hold-down clamp. To do this, you can simply mix baking soda and water, or use a battery cleaning product.
Using a wire brush, clean the battery cable connectors with the same cleaning solution/product.
The new battery is ready to be installed. Carefully place it in the battery tray and tighten the hold-down clamp.
Before you connect the positive and negative terminals/cables, spray the anti-corrosion spray on the terminals. This can lengthen the life of the battery by preventing corrosion build-up.
Attach the battery cables to the battery terminals. First, connect the red cable and then the black cable.
Make sure the connections are secure. Try to move the battery; if it won't budge, it's secure and good to go.
Make sure you're able to start the car. Should you encounter any problems, schedule a service appointment at Maserati of Austin, and our factory-trained technicians will diagnose the issue.
Choose Maserati of Austin for Expert Battery Service
Would you rather leave battery installation to the professionals? The next time you're wondering, "Where can I find car battery installation near me" — keep us in mind! Our team knows how to install a car battery quickly, so you can get back on Houston and Dallas roads in record time. Contact our service team to learn more about our services or to find out how to remove corrosion from your car battery!
More From Maserati of Austin
The Maserati GranTurismo embodies pure elegance, refined amenities, and raw power. Built for those who enjoy the finer things behind the wheel, the upcoming Maserati GranTurismo will offer an energetic electric variant for efficient San Antonio travels. While we're still waiting for the latest Maserati GranTurismo to hit the Houston streets, the available information has fans…

Are you hunting for a luxurious SUV that will turn every trip into a dream ride? If so, the new Maserati Levante offers the specs you crave. This energetic luxury model delivers a spacious cabin and track-ready specs for a superior experience. Securing the keys to this model will be your coronation to take the…

If you have your eye on the new Maserati Ghibli, you undoubtedly have exceptional taste. With good taste comes high expectations, and the latest Maserati Ghibli is built to surpass any standard. While our Maserati of Austin team can't imagine a better model for taking on drives from San Antonio to Houston, you don't have to rely solely…